Fight club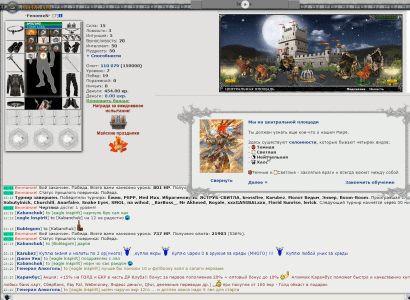 Fight Club is a direct embodiment of the cult classic of browser games, a true legend of the 2000s Runet.
We get acquainted with the Fight Club as a poor beggar. Of course, developing, as in any RPG game, we will begin to complete quests, encounter PvP with other players, receive certain resources, but this will happen, for the most part, in text format. In addition, shaping the identity of our hero, we have to decide which side we will take, Dark or Light. This will determine the main direction of our gameplay. As a representative of the Dark Side, we will commit all kinds of atrocities, for example, rob villages. The bright side cleans cities from dishonesty, in every possible way protects, helps, in general, by any means restores harmony in the world. It is not difficult to guess that the parties are constantly clashing in bloody battles.
By the way, the combat system deserves special attention. It is a sequential exchange of strokes. Each move is an opportunity to strike or to block. In this case, there are several areas for attack: head, chest, arms, legs, stomach. In addition, there are magic tricks that greatly expand the methods of warfare.
To summarize, we note that the project is very specific compared to other modern browser games, but this does not characterize it from the negative side, but makes it special for the most sophisticated gamers.
Game Features:
Really legendary project
Laureate and winner of many Runet awards
Developed social component
Unique combat system
Mostly there is no animation, most of the gameplay is in text format
Many character characteristics