Slither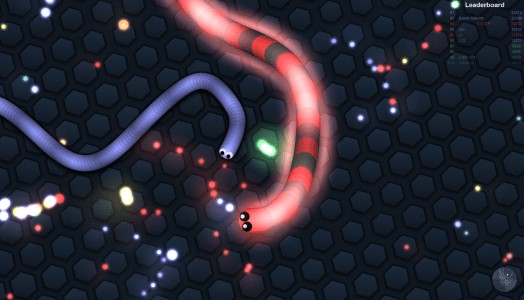 Slither is An amazing and interesting browser-based online game with 3D graphics. A huge plus of Slither io is that it is a multiplayer game and you can play with dozens of players from all over the world. Your character will be a nice little worm that will crawl through a dark field among the same worms-players. But only some worms can hit you with their size. Huge worms of other players will crawl on the field, which will not be so easy to get around.
Your main goal is to eat small multi-colored lights that can be found throughout the map. They are scattered throughout the field or simply remain after the destroyed enemies. The more your worm eats, the longer, wider and more it becomes, which means it will instill fear in other players. In the lower right corner there is a map, thanks to which you can see the most bread places and the number of enemies. You must bypass enemy worms to avoid destruction. To outwit the rest of the players, try to crawl sideways under the enemy and in a collision he will scatter into small lights. It's all about cunning and dexterity. Choose the right strategy and do not have time to blink an eye, as your worm will become just a giant monster. But remember that a very inexperienced player of small sizes can beat you. You may be taken in a ring or crawled while eating under a barrel. You should be careful and try to get ahead of the enemy in his actions, so as not to be taken by surprise. Also, you can accelerate, but for this you have to lose your length and weight. To speed up, you should hold down either the right or left mouse button, or the space bar, and then your worm will speed up. True, after this, you will leave behind a train of lights that you ate.
Your enemies will not keep themselves waiting long and attack the food left behind. That's why you urgently need to eat in order to recover. You can share the game on social networks. After the first game, various skins will be available to you. You can choose any worm you like - from multi-colored to skeleton-like and colors of flags of all countries of the world. Have a nice game!