Friday Night Funkin': Hatsune Miku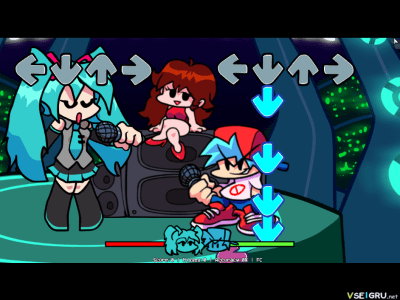 The game "Friday Night Funkin" never ceases to delight us with new characters. Every time we meet a cool mod, we know that a new performer is waiting for us. It's always intriguing! In the game "Friday Night Funkin: Hatsune Miku" we will have a long-awaited meeting with the coolest vocaloid Hatsune Miku. Despite the external fragility, this kawaii girl can smear the coolest vocalist on the stage and sing it in no time. Are you ready to battle her and defeat Japan's most powerful anime vocalist? Then, get down to business!
As before, you will play as Boyfriend - a guy with blue hair who wants to get the girl's heart by defeating all rivals in musical battles. It's just easier said than done! It is necessary to repeat combinations of notes after the opponent, and in the case of Miku, sing at all synchronously, keeping up with her. The girl amazes with her vocal speed, and sometimes it is very difficult to sing after her.
In addition to Hatsune, you will also meet old enemies: Daddy Direrest, Mummy, Skid and Pump, Pico, Lemon Monster, Senpai and Thorn. We already know these guys and battles with them promise to be hot! Adrenaline will go off scale! Enjoy your game and good luck!