Friday Night Funkin' HD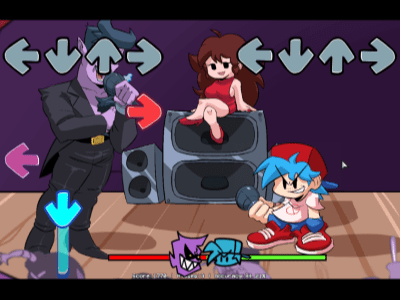 Welcome to Friday Night Funkin' HD! We are glad to present you one of the coolest and highest quality mods. Here you will meet old acquaintances and sing along with them the famous hits Friday Night Funkin. It will be fun, perky and cool! The highlight of the game is that all the familiar characters have acquired more human features, and have become more similar to the heroes of modern cartoons. So, are you ready to rock and sing all evening? Then, stretch your fingers and go!
How to play?
The game has two modes - story and free play. In the story, you will fight in musical duels in turn with the heroes for three weeks. First of all, you need to go through a little training in order to compete with your enemies. In the free play mode, you can go up against any opponent, regardless of the order. Your rivals in musical battles will be the brightest and most memorable heroes: Daddy Direrest, Skid and Pump, Lemon Demon and Pico. Try to squeeze your musical talent to the maximum to defeat all enemies and become number one on the FNF scene! Enjoy your game and good luck!
This mod is created by KOLSAN. If you appreciate his efforts, consider supporting him via PayPal so that he can continue working on the mod