King's Bounty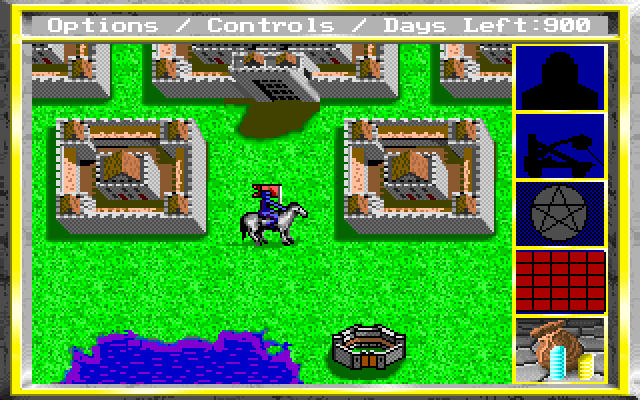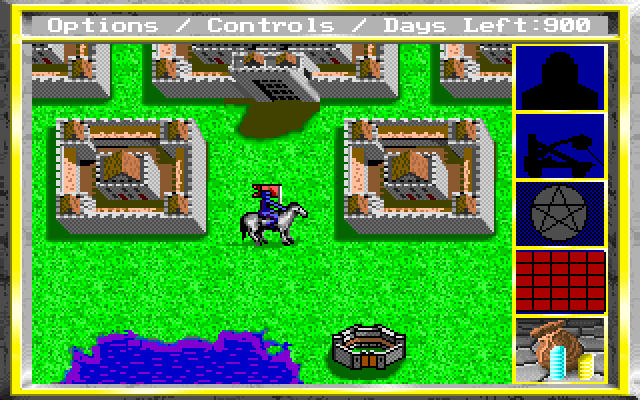 Start!!
King's Bounty is a snapping up strategy game with RPG elements. And here you can play King's Bounty Dos online.
Let's Back in 1990, New World Computing presented its game King's Bounty to the world. It was in this game that many of us familiar to us from the famous series of games of Heroes of Might and Magic appeared. That in general is not surprising, because it is King's Bounty that is the forerunner of the heroes, as evidenced by the many decisions and innovations that appeared later in Heroes 1, released in 1995.
In King's Bounty, the player controls the 1st hero character, the class of which is chosen just before the start of the game.
Knight.
Paladin.
Barbarian.
Or the Sorceress.
The character has certain attributes. You can have up to 5 types of different creatures at any time. And the number of creatures in each group is limited by the leadership of hero. Creatures are recruited into the army of the hero from various dwellings or cities that can be found on the map. The character also has the ability to use magic spells to alter the course of events in one way or another.
With the release of this game in the distant 90s, a new era began in this genre. For its time, the game has become a real masterpiece. It was the game which was conceptually taken as the basis for subsequent, more modern games. Such as Heroes of Might and Magic, Heroes of Malgrimias, as well as the continuation of King's Bounty.
Controls: on the battle window to shoot a squad, press S. To fly, press F.