Worms Armageddon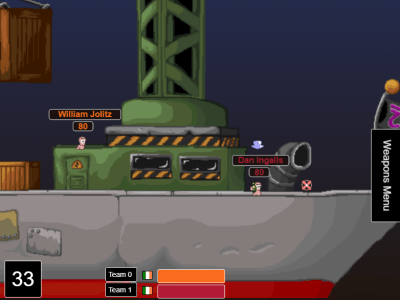 Worms Armageddon is continuation of Worms, the game has retained the predecessor's graphics and a lot of weapons. At first glance, Armageddon may even seem like a mod or a Worms 2 add-on, they are very similar. But upon closer acquaintance, a huge step (or leap) is visible.
In Worms Armageddon for the first time in the series appeared a full-fledged single player instead of a skirmish with a computer opponent. Single player with tutorial-learning, passing story missions, as well as special tests of the type "Master Bazooka", "Master Rope", which require you to use the skill of owning a specific weapon or tool to the fullest. Anyone who considers himself a professional player is simply obliged to get a bazooka master and grenades, proving that he can hit a target at any edge of the map with an accurate shot that takes into account difficult terrain and wind correction.
The ability to create "custom" settings for single-player and multiplayer battles was retained, but now some types of weapons must first be "opened" in a single player mode. In addition to weapons, worms also appeared in the arsenal of "tools" - for example, a laser sight or jet pack. Basically, the tool differs from the weapon in that it does not spend the move. Accordingly, now, in addition to first-aid kits and weapon boxes, boxes with tools also fall from the sky.
Worms have learned new techniques: for example, perform back flips - a high vertical jump, allowing you to jump on the far ledge. And, of course, the true worm humor, humor in everything - in life and death, in the weapons used, in the voices of worms, replays of the most comical situations ...
In short, Worms Armageddon is probably one of the best games in the series. This is a great lesson for both gamers and single player companies. Flexible settings allows you to play exactly the kind of game you want. Well, the wonderful humor of the series will not leave you indifferent!