Friday Night Funkin': The Tricky Mod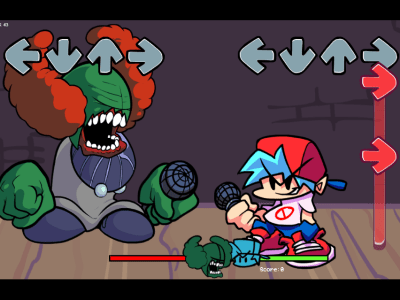 Today the game "Friday Night Funkin" will give us another cool mod. This time your rival will be the scary and terrible clown Tricky. Meeting him will make you terribly afraid of clowns and forget the road to the circus forever. But you and I are just a dozen, aren't we? This means that you are not so easy to scare and you are looking forward to a musical duel with a nightmare clown!
How to play?
In Friday Night Funkin: Tricky, you will spend a couple of rounds fighting Tricky. This guy is just bursting with emotions, and he wants to throw them out on stage. It is worth saying that judging by his songs, the clown is overcome by far from the most positive feelings that tear the monster to pieces. His songs are a mixture of rock and heavy electronic music. This sound will appeal to fans of rock and heavy metal!
There will be two game modes - story and free play. In the story, you have to fight Tricky, overcoming level after level. But in the story mode, you can choose any song of the clown and clash with him in a crazy duel at a breakneck speed. Are your fingers dexterous enough to defeat the evil Tricky? Now we will find out in the coolest rhythm of the FNF arcade. Enjoy your game and good luck!