Leisure Suit Larry 6: Shape Up or Slip Out!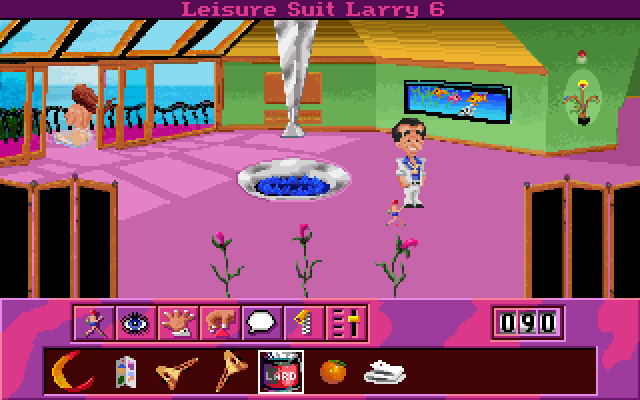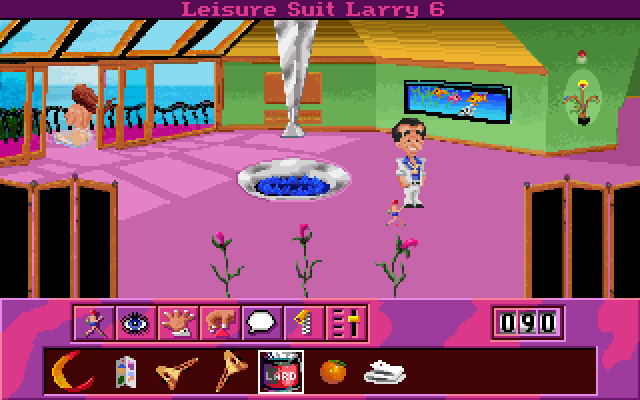 Start!!
The forty-year-old balding disco-anachronism, an unrecognized woman lover, and a proprietary loser (why does the title "L" seem symbolic to the frivolous first-name, to which, however, nobody cares anyway), Larry Laffer thanks to a rare talent over and over again to get into the stupid stories again got on the television duting show and won the second - of the two possible - prize: a ticket to a health resort. It is there that you will take control of this, frankly speaking, low-control, character driven by one fiery passion. Under your leadership, Larry with admirable optimism will try to roll up to all oncoming individuals of the opposite sex, if only his cavalierly romantic mood does not stumble over insults or threats. The goal is known. Mission Impossible.
Themed LSL6 is a summer resort-erotic comedy. Those. on the one hand - the sea, the sun and fun recreation, and on the other - women, women, women, a free tourist and libido. As a consequence of the genre conventions, you get, firstly, a sketchy - with an arcade tint - a plot, whose intrigue is reduced to a wall math problem (Larry + another passion = bummer? Sex? Love?), Secondly, some intimacy: actions are limited to the hotel's territory, the list of actors is employees and guests, and adventures are resort pick-ups. Finally, thirdly, yes, you will receive an inevitable, although absolutely harmless for the modern public, dose of anal-genital humor. If the presence of vulgar jokes and the absence of catharsis do not disagree with your aesthetic preferences - LSL6 can quite well, as they say, "deliver".
I will not say much about the fact that a small giant adult adventure has taken pride of place in the iconostasis of computer game heroes (even if he doesn't have Marios' suites), about how Larry "Leisure Suit" Laffer is a solid image in his comicity, and so on: Lowe, familiar to the older generation of old heimers for more than two decades, does not need any introduction. I will refrain from grading "for the technique": look, perhaps, screenshots. I want to say one thing: LSL6 has everything you can expect from the games in this series. Here is Larry, Larry Laffer himself (and he still does not look like a relative of Elmer Fadd), an abundance of light humor of different thickness and accuracy, dull riddles, Easter eggs. And, yes, of course, it is impossible not to mention: here there are perfectly folded - pixel by pixel - hot crumbs. Substitute in the equation - solve the puzzle.