Shortline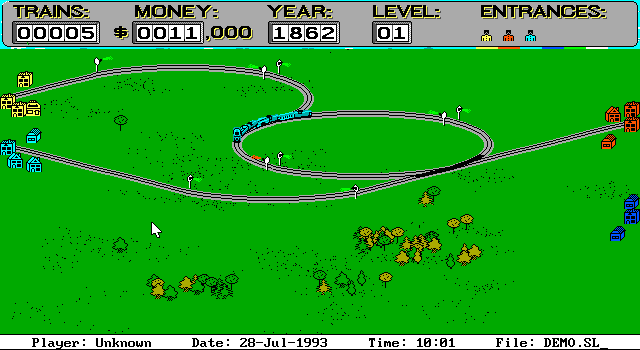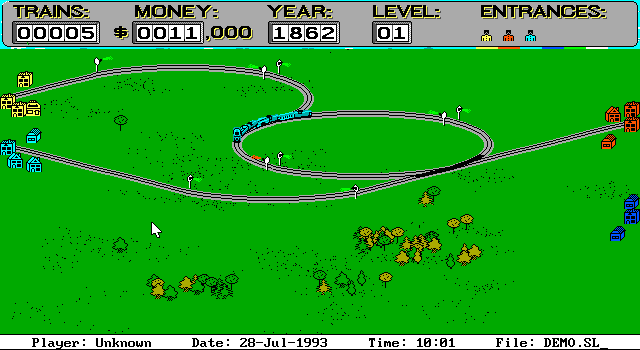 Start!!
Good old game "Construction of the railway." Here you can play game Shortline Dos online and for free.
Shortline on Dos game was created in 1992 by programmer Andrey Snegov and released by Doka for a certain foreign customer. This explains why the game is entirely in English.
The size of the game is about 350 kilobytes - 150000 thousand times smaller than The Witcher 3, and she easily climbed onto a floppy disk.
The main meaning of the game Shortline is the management of the railway in the 19-20th centuries. You must first plan the construction of railway lines. Taking into account the fact that there are only 2 cities between the beginning of the game, between which the trains are forced, but they become 6 towards the end of the game. Also, the trains are becoming more modern and fast. In addition, you need to take into account the terrain. Toest to build a branch where there are trees is more expensive. Although the main thing to do in the game, so as not to go bankrupt - to start the train in time in the appropriate colors of the city. at the same time, you need to have that the train cannot be driven, we can only stop the traffic using traffic lights or direct the train in the right direction using the arrows. Build competently forks, train svetlofory and do not let the trains collide with each other! Because you have to call repairmen!
There are also unmanaged flashing trains. These trains explode when they do not give way to the arrows. Be careful with them!
Also over time, the trains will be upgraded. For example, first go only locomotives. And at the end of the game you will see trains and even modern high-speed trains. They move much faster.
During the game you can save, but after each save from one city will leave an additional composition, so that often will not work.
By the way, after accidents, you lose revenue from two trains and they will charge you a fine. And also on the place of collision of two trains an emergency section of the road is formed, which can be repaired only by a repairman, the call of which is also not free.
Control: done with the mouse. The left button - to switch the shape of the built rail, the right - to build rails. Left + Right together - switch the rail construction mode to the switching mode of traffic lights, call the repairman, etc.