X-COM: Terror From The Deep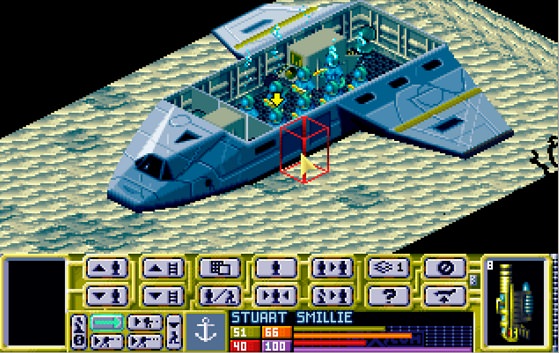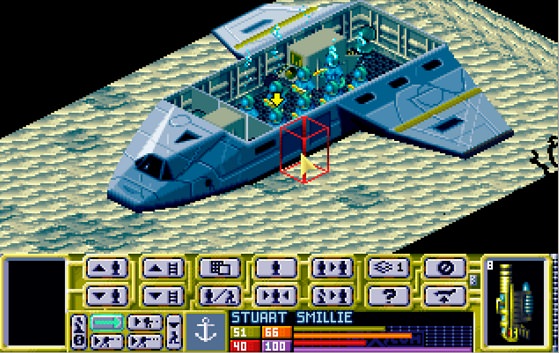 Start!!
Here you can play X-COM: Terror From The Deep online. Microprose released it in 1995, as a continuation of the events that took place in the first part. The story says that millions of years ago a huge ship hit the Gulf of Mexico. And now the aliens are awake and again terrorize earthlings. And only the immortal (and in fact constantly dying) team X-COM will save the world.
So, the menu and the interface as a whole have not changed compared to the previous version, unless the color. And in sononny - this is the same UFO, only in the underwater theme. Interceptors now have submarines, rifles are now harpoons, and soldiers are sailors and so on.
World map: On land, it is now not so detailed. But the seas and oceans were painted in different shades of blue. Now we have to build a base on the water. And all the rest now except for the mission of terror will occur only on water. Even UFO interception can occur only in water. Although our submarines can pursue them in essence).
The game itself is hardcore. Leaving missions without a loss is very difficult, as a result of which the command almost always consists of recruits. they can not even get from three meters.
Learning alien technology has become even more difficult. If in the first part you read the cheat and bezpronnuyu laser rifle almost immediately, then it will take quite a long time before you learn what is worthwhile.
By the way about weapons: if an event occurs after the first part, why can we not even use a laser or a plasma on land? technology has been lost or ban on use was issued? Ok, with a harpoon per se more fun.
The music in the game is not bad, it is terrible, scary. In fights you always sit in tension, as if under water)
And finally, look at all the complexity of X-COM: Terror From The Deep, for all the irrationality of some aspects of the gameplay, it is normal, a good game if you played it before the first part of X-COM.