Throne: Kingdom at War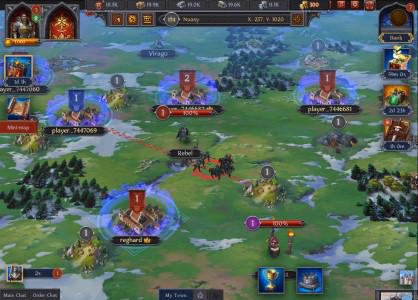 Throne: Kingdom at War is a popular MMO strategy from Plarium, in the spirit of the Middle Ages. We try on the role of the Lord and try to expand our influence in all possible ways. An amazing project on the formation of the economic and political system, on diplomacy and carefully planned wars, on wise rulers and brave heroes. With proper tactics, the fate of hundreds of people and a dozen settlements will soon be in your hands.
From the first seconds, we begin to comprehend the basics of managing the whole kingdom, because you are the son of the Great King. Beginners have nothing to fear - after all, the interface is intuitive, and the first tasks can easily be up to date. We will get acquainted with the extraction of resources, the construction of buildings and, of course, military affairs. A significant part of the gameplay is precisely economic development, since in the future it determines everything else. As the level rises, the appearance of the buildings will change. Research points will help determine and choose the path along which we will "pump" our kingdom. They are economic (the foundation is the construction and production of resources), military (development of the army), intelligence (hide our own progress from prying eyes and find out how everything works with enemies), training (increase mobilization abilities), aggressors (weakening the enemy and protecting their own territories). The army is represented by several types of fighters, the correct placement of which will achieve significant success in the military field.
A cool feature of the game is the ability to become the Great Lord, i.e. your subordination will include users who have founded their cities on your land. This has many advantages, so epic massive battles to defend or siege the castle take place regularly.
Game Features:
Great graphics
Large user community
Great opportunities for the development of the kingdom
Developed economic and social component
Clear gameplay and user-friendly interface
Epic Castle Battles